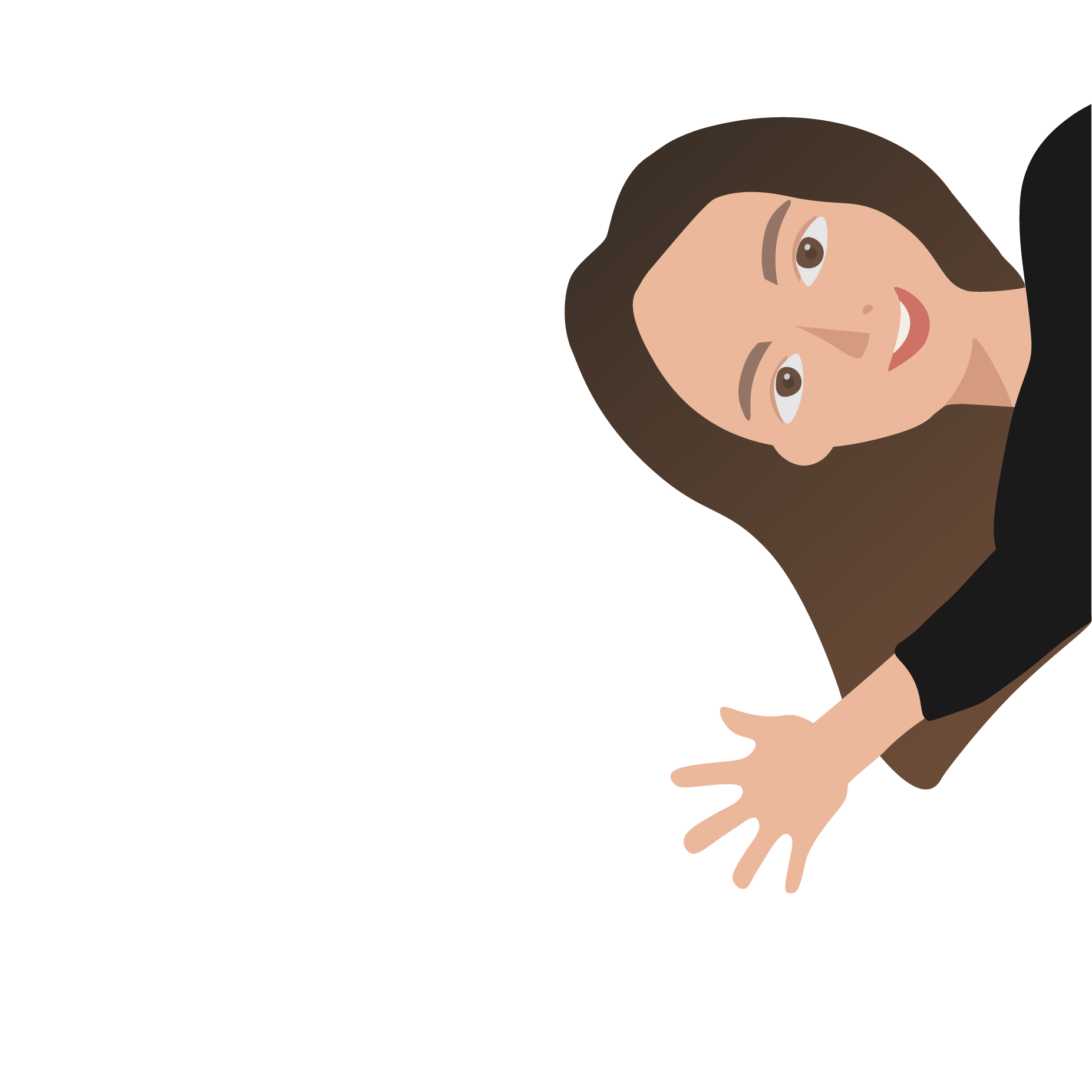 MyCookies
Protecting your privacy
with a single click.

MyCookies is a web extension that provides users with instantaneous knowledge and control regarding the use of website cookies.
CHALLENGE
Cookie Usage
Despite the fact that website cookies are an essential component of the browsing experience, their purposes, functions, and associated consequences remain poorly understood and controlled by the users.
MY ROLE
UI/UX Designer
I was responsible for user research, competitive analysis, persona, user flows, wireframing, prototyping, usability testing, user interface design, and interaction design.
CONTEXT
MAR 2020
This 3-week project was created in March 2020. Design tools such as Adobe XD, Adobe Photoshop, and Adobe Illustrator were used to create this project.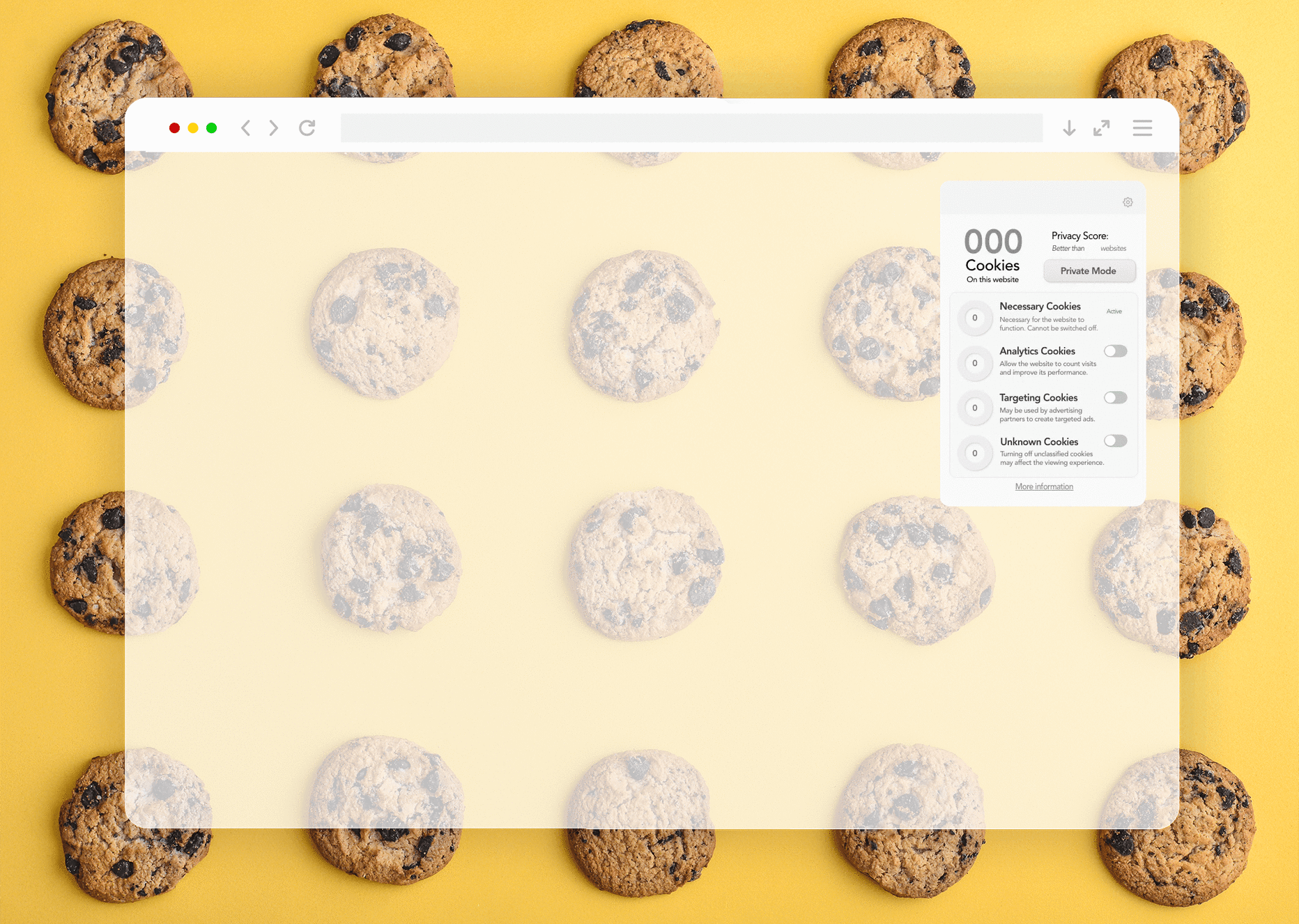 USER RESEARCH

DISCOVER THE PROBLEM
Website cookies are small pieces of information that can be passed from a website to PCs. Cookies were designed to be a mechanism for websites to remember users' browsing activities and pieces of information entered by the users. Despite being an essential component of the website, their purposes, functions, and associated consequences remain poorly understood and controlled by the users due to the unsatisfying user experience with existing cookie notifications.
89%
Spend a few seconds reading
cookie notifications
76%
Feel compelled to agree to the
terms and conditions
67.4%
Feel cookie notifications
are bothersome

01 Lack of Information
Survey results from 46 participants (male & female, 18 - 45 yrs old) indicate a rather high awareness of the presence of website cookies, however, over 89% of participants spend no more than a few seconds reading and agreeing to the terms and conditions on the cookie notifications. Such a short amount of time in dealing with cookie notifications makes it unlikely to acquire more detailed information regarding the current website cookies.
02 Lack of Control
76% of the participants think that instead of providing more control over their personal information, cookie notifications actually make them feel compelled to agree to the terms and conditions. 67.4% of participants feel that cookie notifications are bothering them. The feeling of been bothered and been forced to agree to the policies further impairs the sense of control over website cookies and their use of personal information.
Then, what's wrong with existing
cookie notifications?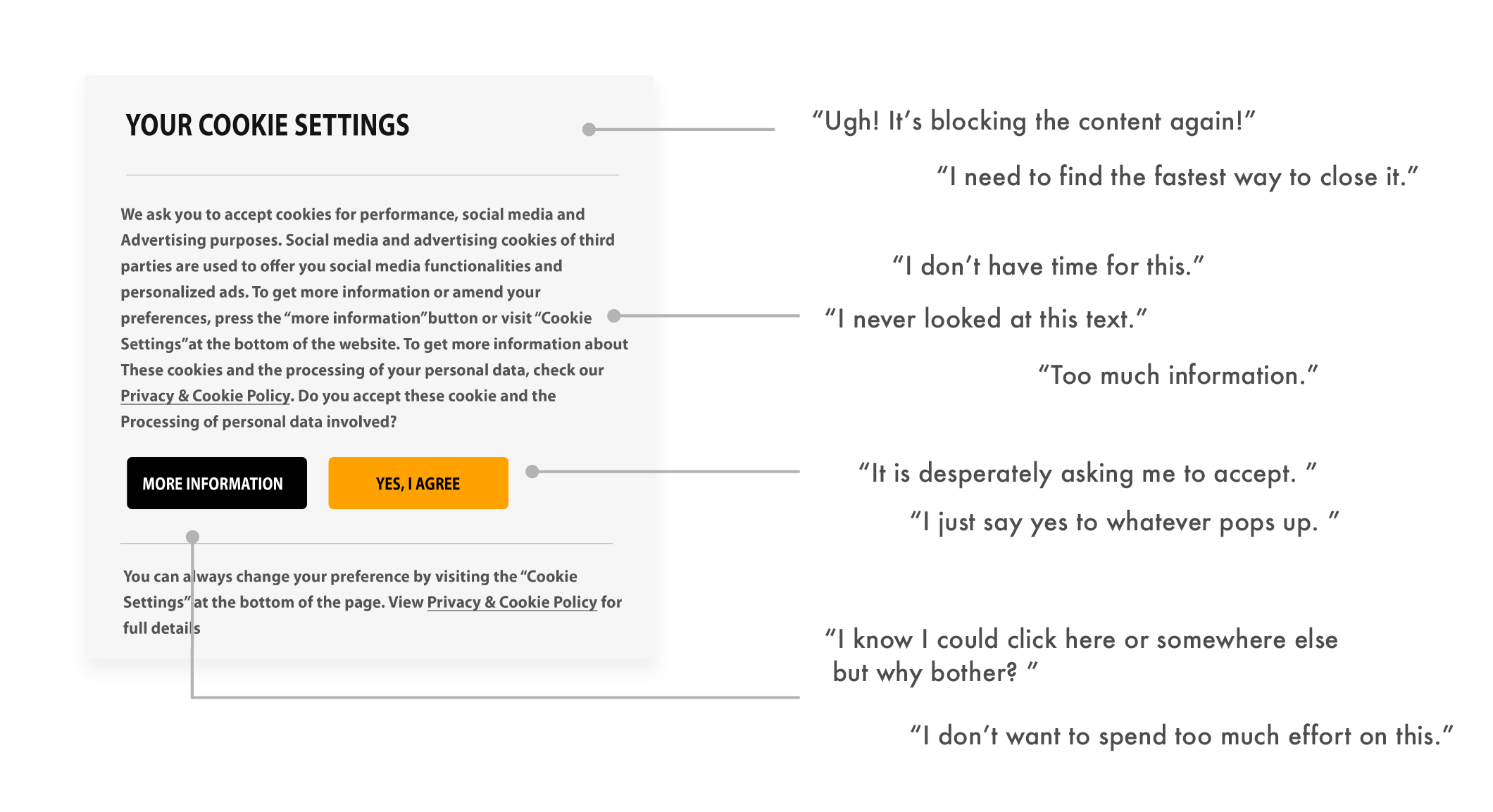 COMPETITIVE ANALYSIS
Key findings from usability test results across competitors
Existing tools are targeting users with expert knowledge in cookie management, but most users (including experts) prefer simple information and control.

The effectiveness of the information delivered varies depending on different factors, such as the layout, length, and complexity of content.

Relatively high bounce rates of mobile users indicate the limited compatibility of some tools on various devices.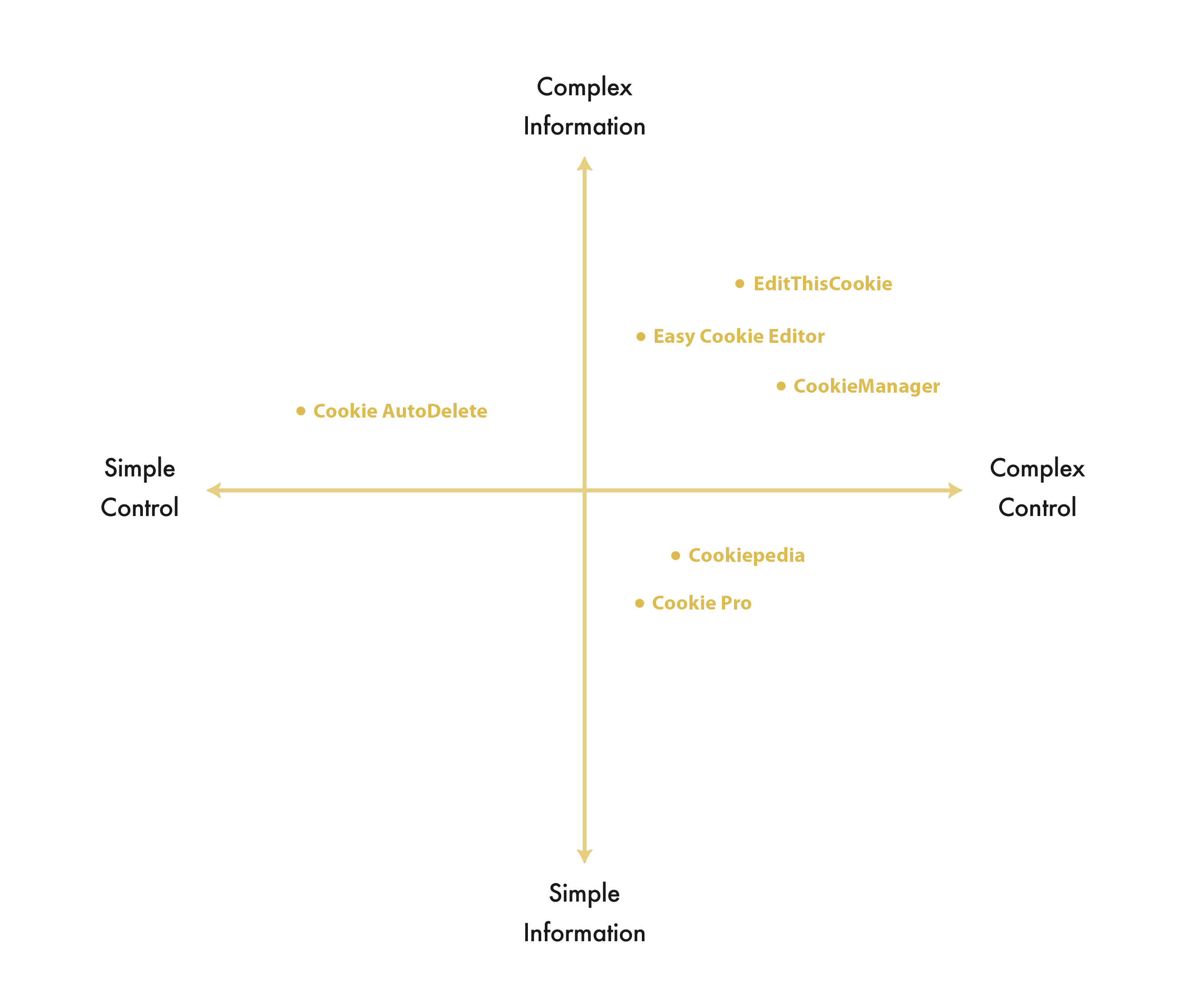 TARGET AUDIENCE & PERSONA
Based on the previous findings, we've decided to target people who:
browse websites regularly on their laptops

care about their information privacy

have a limited understanding and control of cookies

USER FLOW & POINT OF INTERVENTION
User flows below show that after entering a website page, the only way (without other external tools) to acquire adequate information and control regarding the current website's cookies is to read into the cookie notification. However, there are several pain points to such process:
it is time-consuming,

it is difficult to find relevant information, as the policies are often tedious and complicated,

user's control of personal information is constrained by the options provided by the website.
Therefore, we decided to introduce MyCookies at the beginning of the browsing experience to provide users with timely information and control.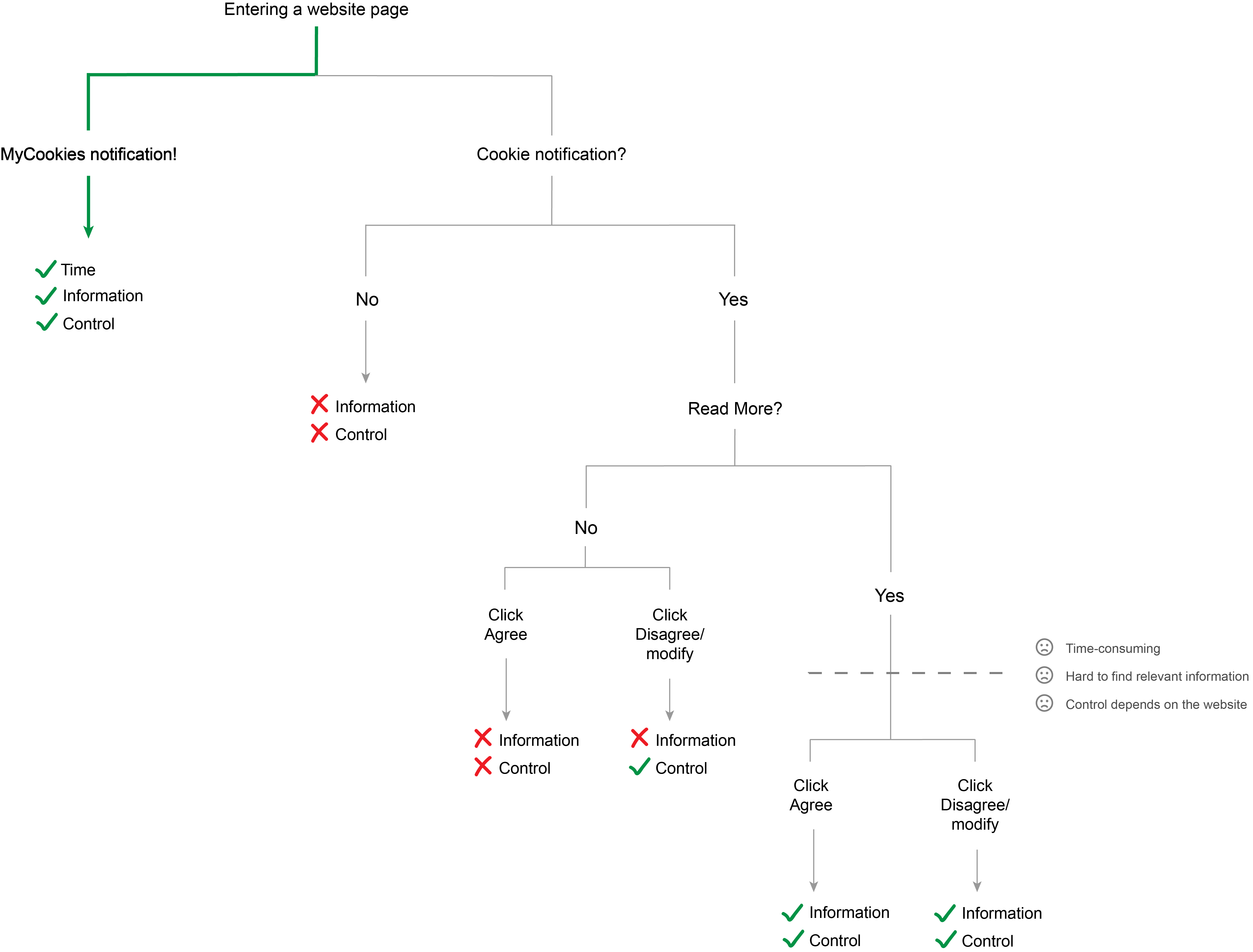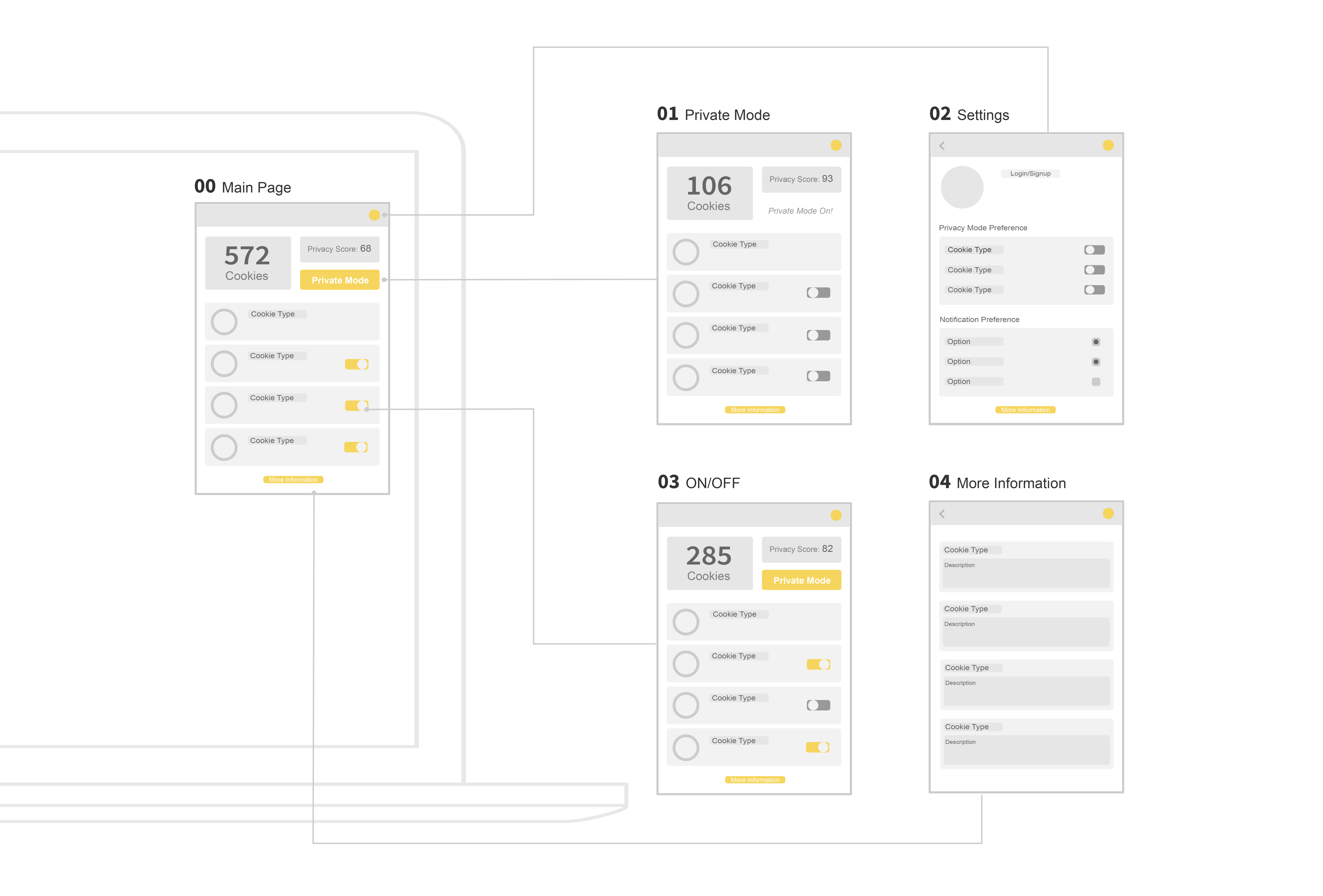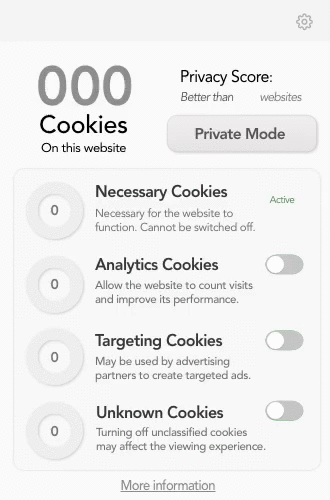 PROTOTYPE
INTRODUCING MYCOOKIES
01
Instant Knowledge
The top section provides straightforward information regarding the number of website cookies and a calculated privacy score.
If the users are intrigued, they can proceed to the section below for detailed distribution of cookies and their functions.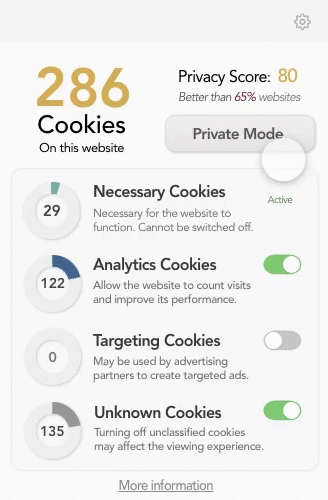 02
Simple Control
The 'Privacy Mode' button in the top section enables users to manage website cookies with just one click.
More user autonomy is provided in the section below for managing different types of cookies.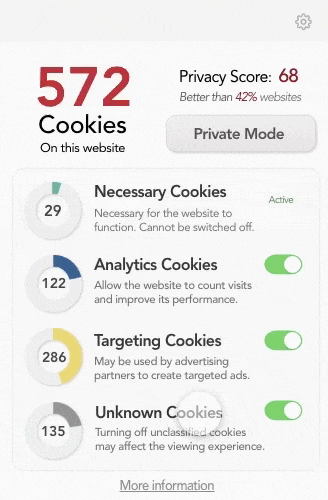 03
More Exploration
MyCookies not only enables fast and simple operations but also allows in-depth exploration for users who want to know/do more. Users can customize the settings and learn more about website cookies.

Progressive disclosure of information and control can suit users with different levels of needs.
USABILITY TESTING
A/B test results from 20 users show an overall improved experience with browsing websites and managing cookies. Users' average 'sense of privacy & security' score increases from 71% to 88.5% after using MyCookies as a complementary tool to website browsing. Over 98% of users report that they feel more in control of their own personal data, and that they have learned something about the current website cookies from using MyCookies.
REFLECTION
Shortly after I've finished the MyCookies prototype, we discovered that the latest Apple WWDC20 announced a similar feature in Safari that helps user to track & understand website cookies. Safari's new built-in feature reveals a limitation of MyCookies. While the intention is to help users with cookie management and privacy issue, MyCookies, as a third-party plug-in, may lead to more privacy issues in itself.
To resolve the issue, we propose to integrate the features/layout of MyCookies with existing website notifications, so that MyCookies no longer functions as an external tool but instead, an integral part of the website.
In the future, the inherent limitations and advantages of different platforms will be taken into consideration in order to optimize our design.